I can't wait to choke down this cock in front of you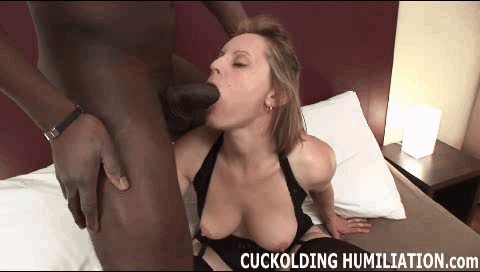 share gif:

You knew you weren't in an exclusive relationship, but you didn't think she'd want cock elsewhere. Too bad for you that your girlfriend wants hot black cock, right?

Sit in the corner and don't say a word. I'm about to get the sexual pleasure I've desired for months on end. Your cock is okay, but let's face it: the honeymoon is over with regard to our sex lives. You don't do things to me that I think you should. That's why I'm outsourcing the job to a hung black stud.

Just take a look at how incredible that cock is. It's absolutely huge and it's about to fill up every inch of my pussy in a way that you never could with what you've got downstairs. This is the best sex I've had of my life, and it makes it so much more enjoyable knowing that you're in the corner watching the action unfold. I feel so dirty and used, but getting a big black cock makes me feel incredible.